The Wall Street Journal recently posted an opinion article titled Remember When Art Was Supposed to be Beautiful with the subheading Contemporary art is obsessed with the politics of race, gender and sexuality. This rant-like post has elicited quite a response through social media, many sharing the article as authentication of their struggle with (or outright rejection of) forms and themes within the umbrella term 'contemporary art'.
Though there are many holes in the argument to unpick (for example, there is a place to answer the author's context-less side swipe at identity politics), I would like to simply respond to the assumed generalization that, once "art was supposed to be beautiful".
The attitude often comes across a little like this: long before the 20th century, the Holocaust, and Nietzsche's declaration of God's death, art was concerned with ideals such as beauty and truth. Having divorced oneself from the philosophical base for a hegemonic western culture, the post-modern being is now purely concerned with their own identity in a disenchanted and empty universe.
The sentence reveals a hidden philosophy that divides art history into two time spaces: the good old days and our current decadent situation.
Despite author Sohrab Ahmari citing many examples of current exhibitions that major on themes of gender politics, there is little historic weight to the assumption that art was once supposed to be beautiful (other than an unrelated image of Michelangelo's David beside the text). My mind wonders: when exactly was art 'supposed to be beautiful'? Who were the 'supposers' that required all art to be beautiful? And let's not even get into questions around the nature of 'the beautiful'!
To assume that the weight of art history was conducted as a pursuit of 'beauty' as found in Neo-classical art is ignorant to say the least. First of all, it assumes a Eurocentric worldview that sees the heights (or purest forms) of art in Titian, Raphael, and other white male celebrity artists from our retelling of human history that unifies and codifies the spectrum of human existence and expression into our time and culture bound understanding of the world. No doubt 'beauty' in art is defined within the limits of referable depiction of three-dimensional reality. The argument seldom looks to other cultures and periods of history and what others 'supposed' art to be about. In this sense our throwaway statement reveals itself to be colonial at heart for it assumes the unity of history as a progressive story that reaches its peak in our time and in our lands.
Let us journey to some 15,000 years ago to the cave paintings found in Western Europe. The paintings that adorn the cave of Lascaux in France are filled with illustrations of bison and other animals. Our books and theorists inform us that such images were created, not simply as decoration but as powerful symbols in an animistic world. We refer to the artists as 'primitives' and attempt to pin down their intentions in creating these images. Gombrich in his The Story of Art comments that we must not think of these images as something nice or beautiful to see but 'as something powerful to use'. How would the early people use these images? In order to avoid speculation, I am content to simply state that the leading theories have very little to do with concepts of 'beauty' but rather as a means of influencing nature.
Or consider the pre-colonial aboriginal art of the Americas. All we have left of the indigenous central empires is their (loosely defined) art. The totemic structures (totem poles) of the northern peoples embody an approach and attitude towards both life and the arts that understands significance in terms of spirit hierarchies, tribal identities, and mythic stories. At first look the bemoaning western critic may only see a jumble of animal masks lacking in 'beauty' and truth to nature, but for the artists within their cultures it was a community identity project with many totemic structures involving the entire male population of any one tribe in their creation.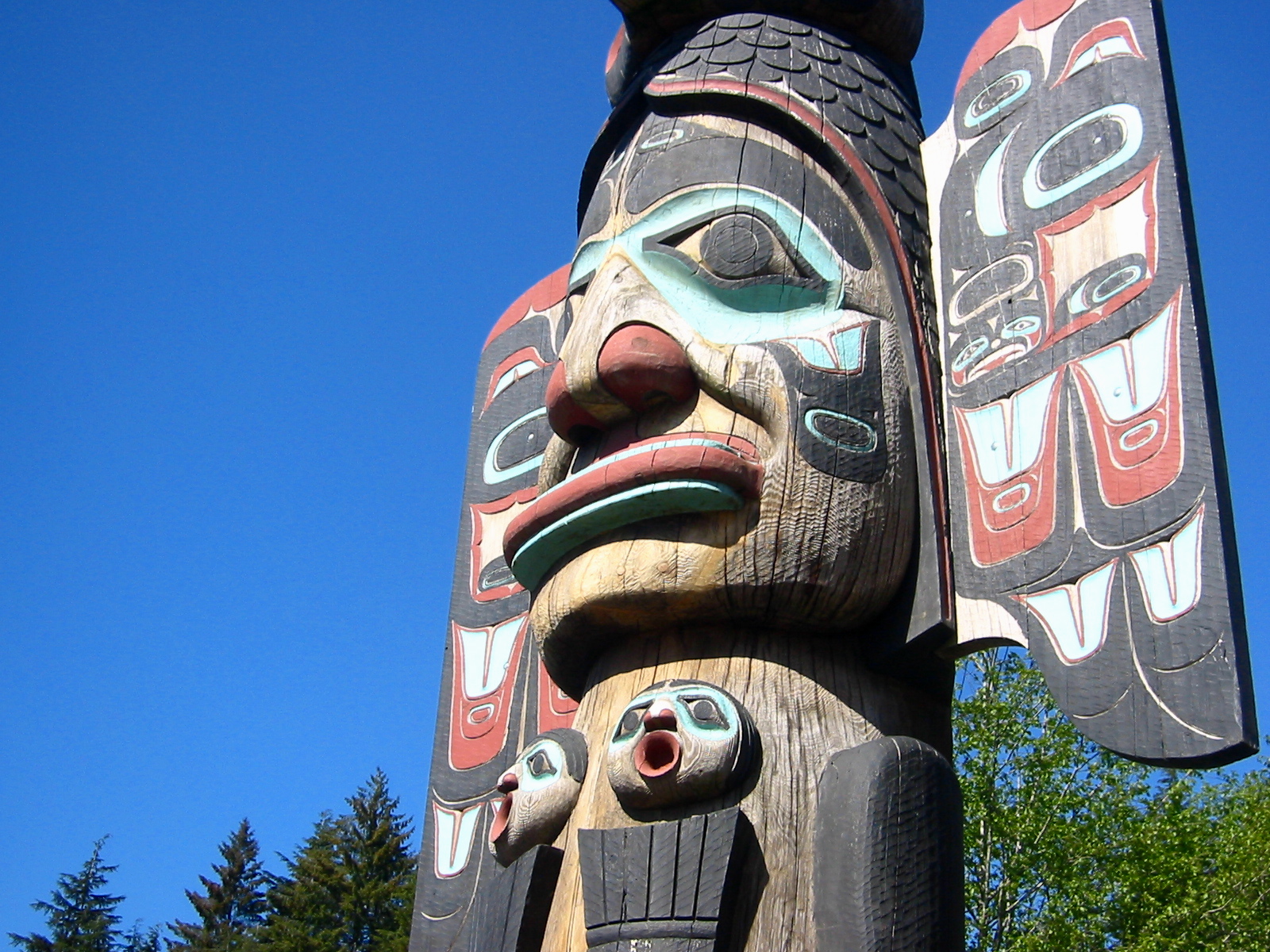 What about the Egyptians? Was the period that is considered the origin of our current civilization solely concerned with the pursuit of 'beauty' in their art? Our typical images of the ancient world help us understand the concerns of the Nile people in their art making. Both pyramids and the mummification process were creative preservation projects. Egyptian art didn't just seek for longevity but eternity: one Egyptian word for sculptor actually translating as 'He-who-keeps-alive'. The (in our eyes) rigid depiction of animal life appears to correspond to this attitude, for the artist was required to preserve everything in utmost clarity and uniformity: that nothing would be lost. Gombrich puts it "What mattered most was not prettiness but completeness". Three dimensionality was left in favour for characteristic angles that captured the subject's distinctiveness.
To turn to a more recent example within our own lineage, Hieronymus Bosch was a 15th to 16th century northern European painter who depicted many subjects but is infamous for his extraordinarily macabre hellscapes. Bosch is an art history enigma, his work too impasto and earthly for the category of pious 'religious medieval art' but far too imaginative and surreal for the Northern Renaissance (I marvel as I consider how Bosch's closest contemporaries would have been the likes of Albrecht Durer and Jan Van Eyck). It would be incredible to claim that even in 16th century Europe 'Art was supposed to beautiful' when stood before Bosch's otherworldly altarpieces.
It is interesting that the modernist departure from the neo-classical norms of 'beauty and truth' comes as the dominance of our first world vision is brought into question by a growing awareness of the marginal and minority perspectives of what art is 'supposed to be'. As the 20th century brought about an explosion of interdisciplinary activity, many art schools were born, each in their pursuit of what art was 'supposed to be'. Many agreeing that beauty could no longer be a viable pursuit following the horrors of the Holocaust, with philosopher Theodor Adorno even stating "There is no poetry after Auschwitz".
But let us take a quick look at the most radical departures from a traditional western aesthetic as found in Picasso. A seminal artist, Picasso has helped shape our current world of art; his influence cannot be overstated. Between the years of 1906 and 1909 the Spanish artist deliberately engaged in created art inspired by African art forms that had found their way to Europe. His interest became known as his African Period and was ignited when fellow artist Matisse presented to him a mask of the Dan people, Picasso later describing the event as 'pivotal' in his evolution as an artist.
Though these tribal works had became known through colonial exploitation and the indigenous significance of the art was not fully understood, early modern art was marked by the stylistic influences of the African craftsmen and culture. It was becoming widely acknowledged that the traditional formulas of 'beauty' in western art were failing to sufficiently depict the world in which the 20th century artists found themselves. Picasso's 1907 oil painting Les Demoiselles d'Avignon resulted from many studies of African composition and mask-work and has become a poster image of the school of Primitivism, an art movement that is marked by its borrowing and appropriating of pre-colonial folk and aboriginal motifs.
I will not pretend that the 20th century brought about a golden era of respect and appreciation for pre-colonial people and culture, but something in western art did shift. 'Beauty', which was never the sole qualification of Western art (as we have seen), was toppled. Not by gender politics, macabre fantasies, or even the birth of photography but by a wider perspective that encouraged study of historical and contemporary orders and movements outside of the dominant European mind.
Though we may 'remember when art was supposed to be about beauty' from our armchairs, the fathers of contemporary art were the ones who questioned this assumption and looked beyond Titian and Michelangelo to 'remember when art was supposed to be about' a number of things: totemic order, the spirit world, and eternity being a few examples. To imagine that there was a uniform past era of beautiful art that has been usurped by today's political art is naïve for it fails to recognize heritages outside of our own, many of which then contributed to the change in what 'art is supposed to be about'.
(For the previous post in our 'Beauty and Art' series, simply click here. For the next one, try here)